Revolutionary Improvements
Compared to its predecessor, Epic Pinball, Extreme Pinball introduces groundbreaking changes. It boasts an expanded 320×400 resolution and taller tables, offering ample space for more engaging table designs and thrilling gameplay.
An exciting addition to the game is the Dot Matrix Display (DMD), which showcases 3D-rendered animations on the scoreboard, enhancing the visual appeal.
However, Extreme Pinball doesn't merely stick to traditional pinball physics. The controls are more sensitive, and the ball moves faster. While this may deviate from realistic pinball gameplay, it injects a thrilling pace into the game, granting players greater influence over the ball's trajectory.
The Marvelous Tables
This electrifying pinball adventure offers players a sensational gameplay experience across four distinctive tables: Rock Fantasy, Medieval Knights, Urban Chaos, and Monkey Mayhem.
These tables are teeming with intricate details, clever trinkets, and devious traps, presenting a challenge even for the most seasoned pinball enthusiasts.
The large tables scroll smoothly, ensuring a captivating pinball experience. It's no exaggeration to call Extreme Pinball one of the finest pinball games ever created.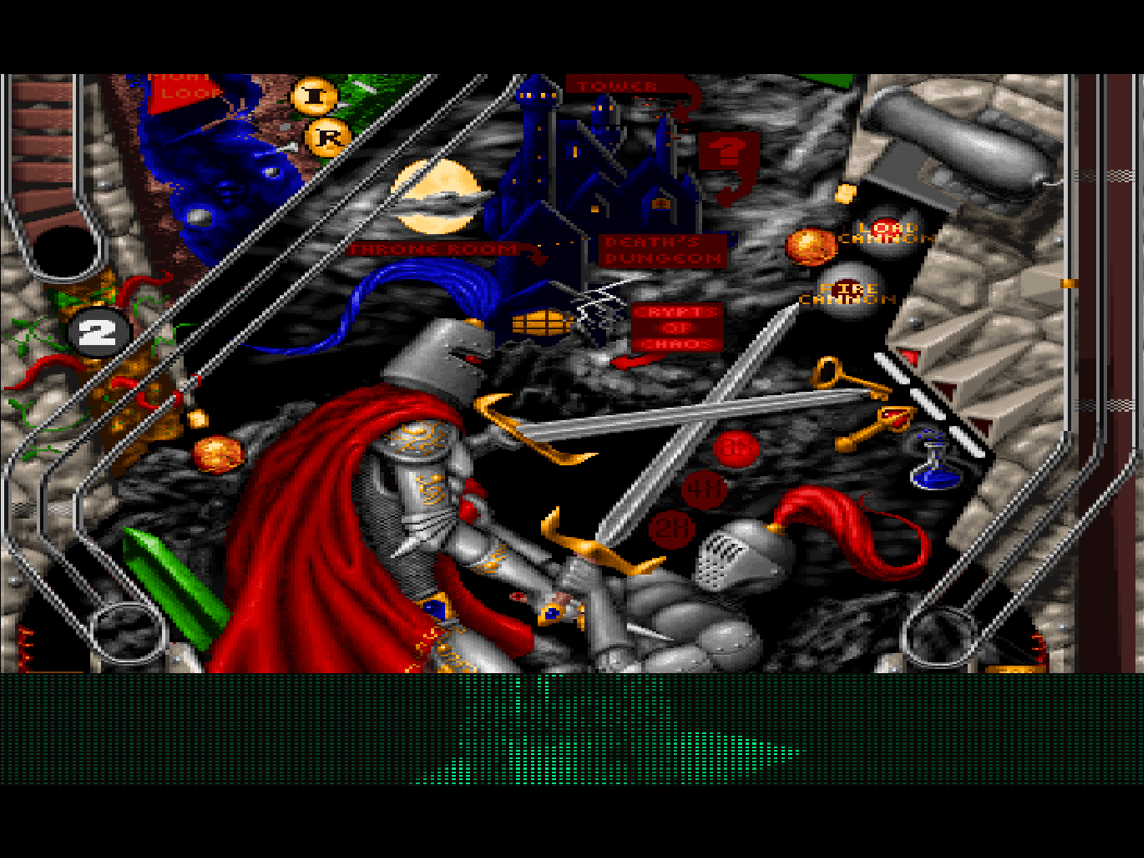 SGI™-Rendered Masterpieces
Prepare to be mesmerized as you dive into the captivating world of Extreme Pinball. Each table comes to life with breathtaking SGI™-rendered artwork that catapults you into immersive gameplay. The inclusion of CD-quality music and sound effects further enriches the experience, with everything from screeching guitars to thundering gunshots. Extreme Pinball epitomizes pinball excellence.
Get ready for pinball at its most extreme!
Continuing the Legacy
Extreme Pinball keeps the spirit of pinball alive. For those who relished Epic Pinball, this successor, which employs the same game engine, is a delightful find. Released around two years after its predecessor and other iconic games from Epic Megagames, Extreme Pinball is a nostalgic journey.
In this demo version, you get to experience the "Rock Fantasy" table, one of the four tables included in the full version of the game. The gameplay is high-octane, arguably occasionally too fast—an embodiment of the '90s extreme ethos. With solid graphics and an energizing soundtrack, it's a delightful pinball game, even if the physics may not align with reality.
Extreme Pinball: Where Nostalgia and Fun Collide
Long before 3D Pinball: Space Cadet became a staple for Windows users, there was Extreme Pinball—a gem from an era marked by sluggish internet and intermittent connections. This extraordinary pinball game, developed by Epic MegaGames, emerged as a fan favorite.
Extreme Pinball surprised many, including those who weren't ardent pinball enthusiasts. The game's vivid graphics, stellar soundtracks, and extended longevity captivated players. It not only served as a fantastic reflex test but also provided endless entertainment as balls bounced wildly across the tables.
Before you became acquainted with 3D Pinball: Space Cadet, Extreme Pinball held a special place in the hearts of gamers. Developed by Epic MegaGames as a successor to their 1993 release, Epic Pinball, Extreme Pinball was a standout title in the pinball genre.
Even if you weren't a die-hard pinball enthusiast, Extreme Pinball managed to leave a lasting impression. Vibrant graphics, iconic soundtracks, and addictive gameplay made it an excellent choice for those moments when you sought a break from complex gaming and simply wanted to unwind.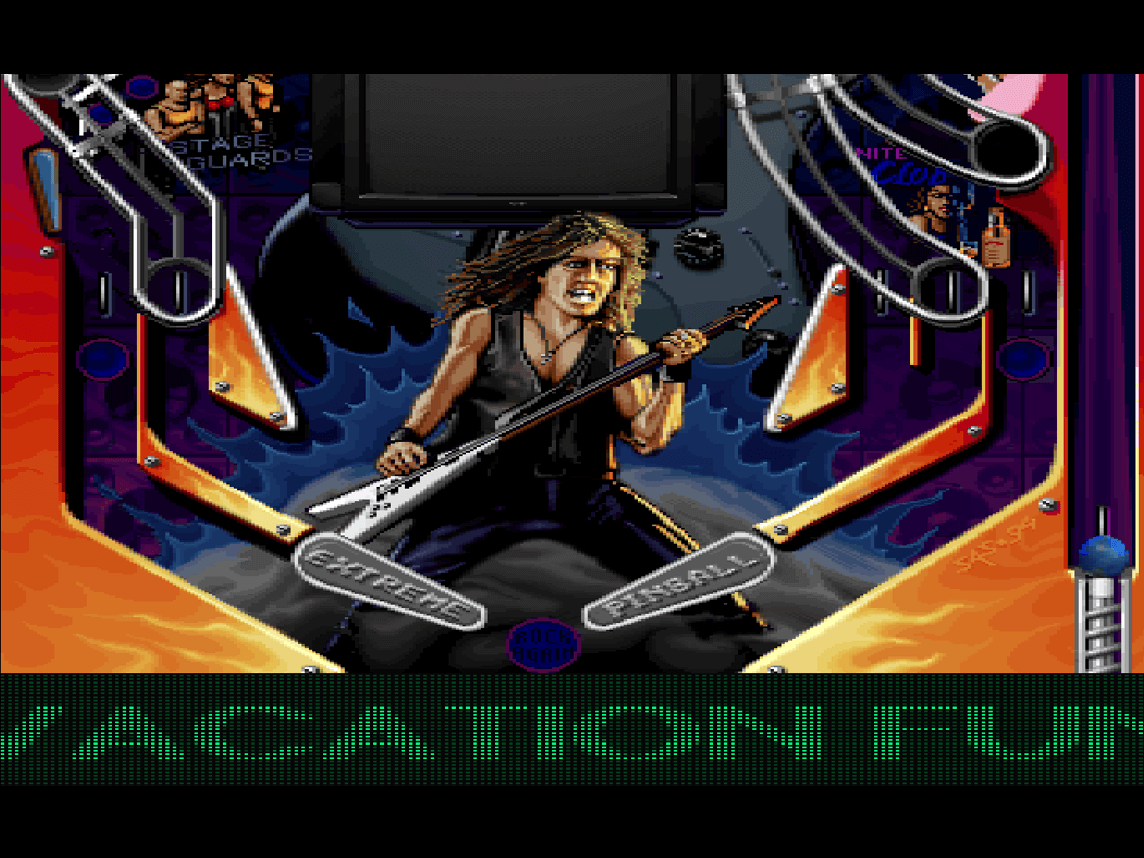 The Heart-Pounding Tables
The game features four distinct tables, each with its unique theme and set of challenges. "Monkey Mayhem," known for its multitude of missions and potential for high scores, often topped the list of favorites among players. It was common to find players vying to achieve the highest score, resulting in a cacophony of cheers, jeers, and exclamations as the ball ricocheted across the table.
Pinball with a Twist
Extreme Pinball injects novelty into the traditional pinball concept, ensuring players have an extraordinary experience. The gameplay is smooth and designed to provide a sense of accomplishment, whether it's preventing the ball from slipping away or completing a myriad of missions on each table.
The Rocking Soundtrack
One of the standout features of Extreme Pinball is its sensational soundtrack. Each table boasts a distinct soundtrack, with "Rock Fantasy" taking center stage. The rhythmic tunes, electrifying guitar solos, and stage-like ambiance make "Rock Fantasy" a must-play for those seeking inspiration and energy.
Turn up your speakers and experience the sonic brilliance that accompanies the gameplay.
Enjoyable Interludes
Extreme Pinball often served as a delightful interlude for gamers. When you didn't want to tackle challenging games or needed a breather, this pinball masterpiece came to the rescue. It provided a moment of relaxation, free from the complexities of puzzles and strategy.
Exploring the Game
Navigating through Extreme Pinball is straightforward. The primary goal is to achieve the highest score, all while keeping the ball in play and completing a range of missions on each table. However, there are moments when the game appears to be testing your patience, with slingshots redirecting the ball to precisely where you don't want it to go.
Such situations can lead to the inevitable response: vehemently hitting the keyboard.
Conclusion
While Extreme Pinball may not have been every gamer's first choice, it left an indelible mark on those who ventured into its world. Extreme Pinball ia a reminder of simpler gaming moments when score-chasing and reflex-testing were the order of the day.
Play Extreme Pinball online
Now you can play Extreme Pinball online, in a web browser!