When the Archmage Khelben summons the Heroes of Waterdeep once again, you know that something sinister is afoot. This time, it's the mysterious occurrences in the nearby forests, with Darkmoon Temple at the center of it all. People are vanishing without a trace, and eerie shallow graves filled with human remains are being unearthed.
The Heroes are promptly teleported to the forest's edge near Darkmoon, tasked with unearthing the evil lurking within the temple's towers.
Classic RPG Gameplay
Eye of the Beholder II: The Legend of Darkmoon, originally released in 1991, was crafted by Westwood Associates and published by Strategic Simulations, Inc.
Eye of the Beholder II continues the epic journey from its predecessor. This first-person dungeon-crawling RPG, steeped in the rules of AD&D's second edition, maintains the same familiar point-and-click gameplay mechanics.
You'll once again venture into pseudo-3D maze-like areas, where automapping is but a distant dream. Combat is intense and real-time, and you'll need to move your characters as a coordinated unit to outwit your foes.
Assemble Your Party
A well-rounded party of four brave adventurers awaits you, ready to be transferred from your earlier adventures or created anew. Choose from six diverse classes, including Fighter, Ranger, Paladin, Cleric, Mage, and Thief.
As you delve deeper into the darkness of Darkmoon Temple, your characters will ascend to higher levels, acquiring new spells, encountering formidable monsters, and unraveling intricate puzzles.
This sequel introduces a plethora of illustrated NPC encounters and captivating cutscenes, immersing you even further into its gripping narrative.
A Bigger, Better, and Meaner Adventure
As you step into the haunted forest, the dread Temple Darkmoon looms large with three massive towers that beckon you into its nightmarish depths. This exciting sequel promises a grander adventure encompassing forests, temples, catacombs, and towering structures.
The story is richer with more characters to meet, clues to decipher, and mysteries to unveil.
Better Graphics and Interface
Eye of the Beholder II boasts improved graphics and a more user-friendly "point-and-click" interface, making your journey through Darkmoon Temple even more enjoyable.
In this installment, you'll encounter new, smarter, and meaner monsters, some of which are all too human. Brace yourself for tougher battles and cunning adversaries as you venture deeper into the abyss.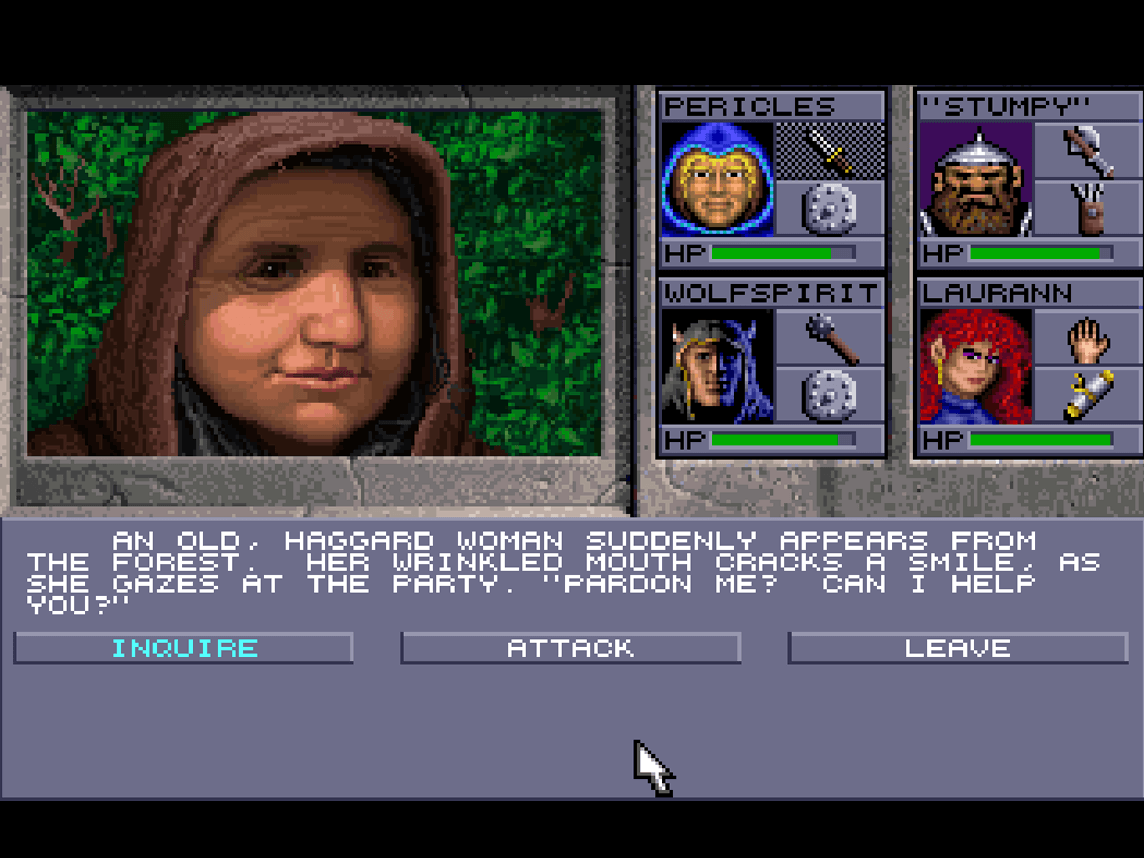 Unveil the Legend
Prepare for an unforgettable journey as you heed the call of Khelben Arunsun, explore Darkmoon Temple, and uncover the Legend of Darkmoon. Dive into a classic RPG experience that has enthralled gamers for generations.
Play Eye of the Beholder II online
Play Eye of the Beholder II: The Legend of Darkmoon online for free on our website.