Exploring the World of Links 386 Pro
Links 386 Pro is not just any golf game, it's a sequel to the acclaimed Links: The Challenge of Golf, and it comes with a host of improvements and exciting features.
Released in 1992 for MS-DOS, it marked a significant step forward in golf simulation gaming. Let's take a closer look at what makes Links 386 Pro stand out.
Graphics and Realism
One of the most notable upgrades in Links 386 Pro is the introduction of photo-realistic SVGA graphics. The visuals in the game are designed to immerse you in the golfing experience, providing a level of realism that was unprecedented at the time of its release.
Enhanced Gameplay
Links 386 Pro offers an array of gameplay options. Players can choose between male and female characters, each with different shirt colors, adding a personal touch to your virtual golfer. You can select your level of play—whether you're a beginner, amateur, or a pro—and even choose your tee position.
Precision in Control
Control is key in golf, and Links 386 Pro pays meticulous attention to it. You have precise control over your character's direction and foot positioning. The swing meter is your tool for controlling shots, requiring you to time your clicks carefully for power and direction. A slight miscalculation can lead to hooks or slices, adding an extra layer of challenge.
Varied Views and Recordings
The game offers multiple viewing options, allowing you to select from different perspectives. You can even split the screen to get a better grasp of the course.
Additionally, you have the ability to record your shots, making it possible to revisit your best moments on the course.
Expanding the Golfing World
Links 386 Pro initially included the renowned Harbour Town course. However, players had the option to expand their golfing horizons by purchasing additional courses separately.
These additional courses were released under the "Links Championship Courses" branding, each offering a unique golfing challenge.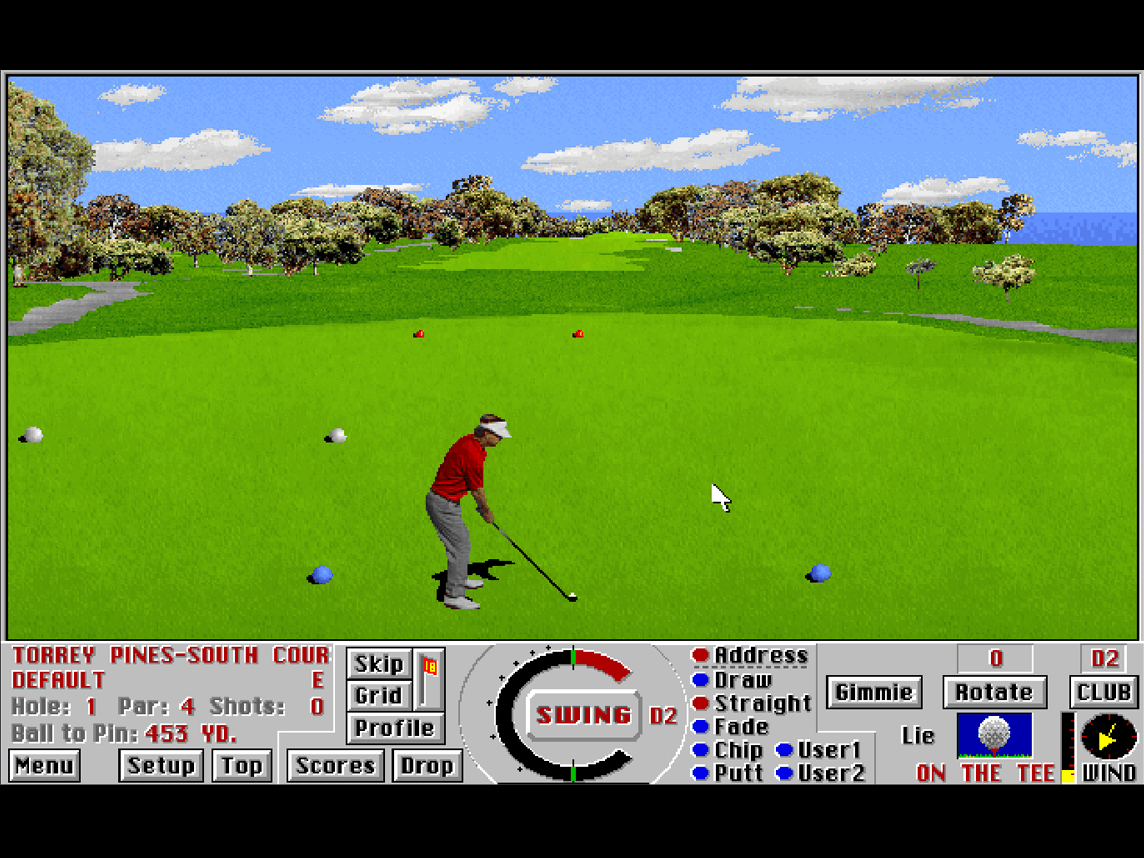 Online Tournaments
In 1994, the game introduced the Links Tour, an online tournament that connected 250 players via modem. This innovative feature allowed golfers to compete against each other from the comfort of their homes, adding a competitive edge to the game.
Why Links 386 Pro Stands Out
Links 386 Pro is a game that focuses on delivering a classic golfing experience without overwhelming players with unnecessary complexities. It's known for its smooth interface, fast redraws, engaging voiceovers, helpful putting grids, and immersive gameplay.
While it may not have introduced groundbreaking innovations, it excels in providing an enjoyable and quick round of virtual golf.
Conclusion
In the world of sports simulation gaming, the game remains a classic choice for golf enthusiasts. Its attention to detail, realistic graphics, and precise controls make it a timeless addition to the golf simulation genre. Whether you're a seasoned golfer or new to the sport, the game offers an accessible yet challenging virtual golfing experience.
Play Links 386 Pro online
You can play Links 386 Pro online, in a web browser on our website.