Introduction
This classic game, built on Access' Links engine, brings the world of golf to your computer. Get ready to tee off on the official PGA Torrey Pines Golf Course and experience a detailed golf simulation like never before.
Exploring the Features
Microsoft Golf offers a comprehensive set of features that you'd expect from a top-notch sports simulation. Whether you're a seasoned golfer or a newcomer to the sport, this game has something for everyone. Let's take a closer look at what it has to offer:
Windows 3.x Support: Microsoft Golf introduces Windows 3.x support for the popular Links series, enhancing your gaming experience on the Windows platform.
PGA Torrey Pines Golf Course: Explore the beauty and challenges of the official PGA Torrey Pines Golf Course. Experience the intricacies of this renowned course from the comfort of your computer.
Practice Ranges: Try your golfing skills with practice ranges. Perfect your swings, putts, and drives before hitting the course for a real game.
Aerial Course Previews: Get a bird's-eye view of the golf course with aerial previews. Analyze the terrain and plan your strategies for each hole.
Hot-Seat Multiplayer: Challenge your friends to a round of golf with hot-seat multiplayer mode. Compete head-to-head and see who can conquer the course.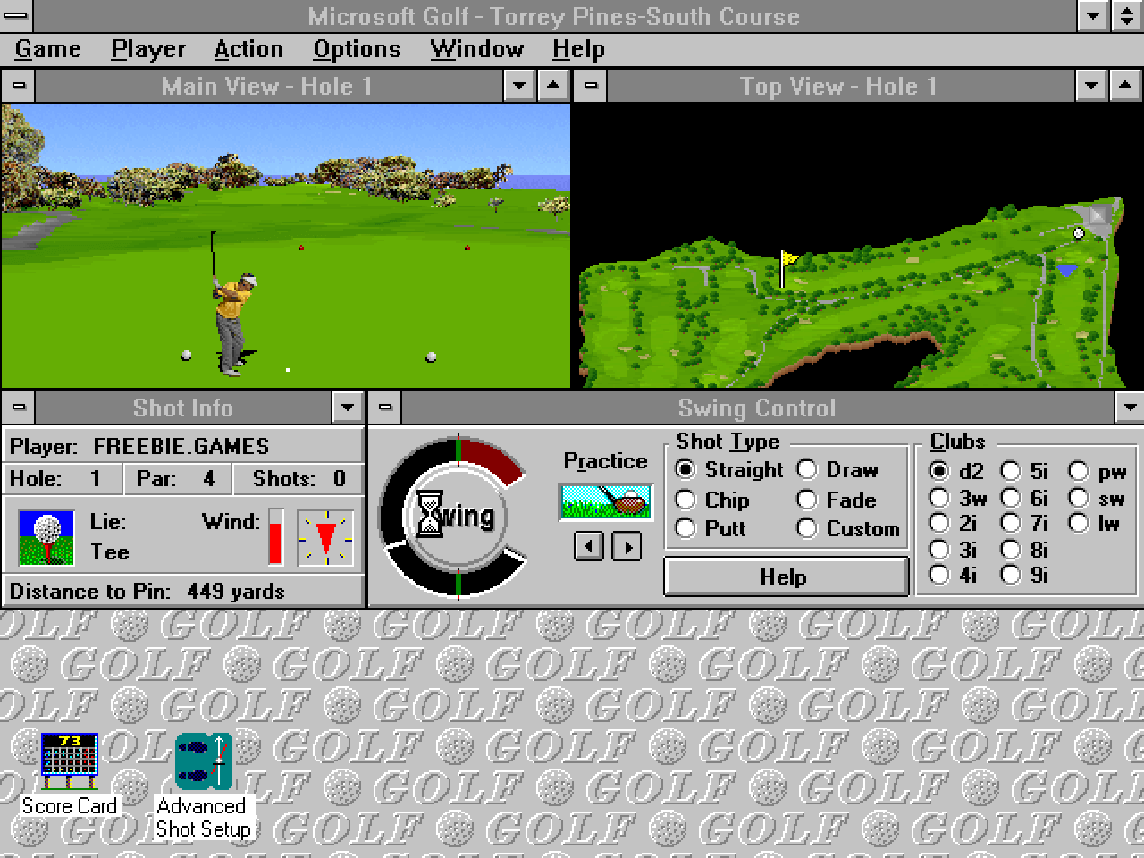 A Classic Golf Experience
In the realm of PC sports gaming, golf simulations have a special place, much like the royal family.
They've been around for a while, refined over time to deliver a high level of sophistication. Microsoft Golf, utilizing the same game engine and additional courses as the renowned Links series from Access, continues this tradition. It offers a golfing experience that is enjoyable, challenging, and accessible, all without reinventing the wheel.
While innovation can be exciting, there's something timeless about a classic golf game. Microsoft Golf stays true to the core elements of a great golfing experience without overwhelming players with unnecessary frills. It's a game that understands what makes golf enjoyable and delivers precisely that.
The Golfing Experience
The game excels in providing a smooth and user-friendly interface. It boasts fast redraws, catchy voiceovers, putting grids, fly-bys, and helpful tips. These elements come together to ensure that your round of golf is not only enjoyable but also immersive. Perhaps most importantly, the game doesn't drag on, allowing you to complete your golfing adventure in a reasonable time.
However, one minor challenge players might encounter is developing consistency when chipping from around the greens. Chipping is known to be one of the trickier aspects of golf, and Microsoft Golf aims to replicate this challenge faithfully.
Replay and Multiplayer
The game provides players with the opportunity to review their shots through replays from both normal and reverse angles. You can decide whether to play a mulligan or save the replay for later viewing. It's a feature that adds a layer of excitement and competitiveness to the game.
For those seeking competition, Microsoft Golf offers the option to play against a friend or challenge the computer. If you're feeling adventurous, you can even engage in long-distance modem battles through PlayerNet.
Conclusion
In the realm of golf simulations, Microsoft Golf stands as a classic and well-crafted experience. It brings the essence of golf to your computer screen, combining accessibility with the challenges of the sport. With two excellent courses to explore, it offers variety and enjoyment for golf enthusiasts of all levels.
Play Microsoft Golf Online
Microsoft Golf is ready to provide you with an authentic golfing experience on our website, in a web browser. Play Microsoft Golf online!
So, are you prepared to step onto the virtual fairways and test your golfing skills with Microsoft Golf? Tee up and start your golfing journey today!